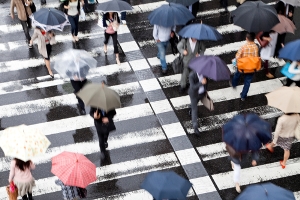 Ever wonder why nationalism is such a powerful force in the modern world? Why there are protests, uprisings and revolutions? Why poverty, inequality and racism persists? Why politicians are not trusted? How globalization is changing our lives? Whether societies could ever be more just? Then Sociology is the subject for you.
A changing world
Sociology gives you the opportunity to study the ways our world is changing, from global climate crisis to the impact of new technologies and the changing nature of personal relationships. It explores the multiple forms of power and inequality and how they affect our lives. Over the course of your degree, you will develop the tools you need to understand the key events of our time and how they are linked to the main forces and institutions that shape the modern world.
What's special about Sociology at Cambridge?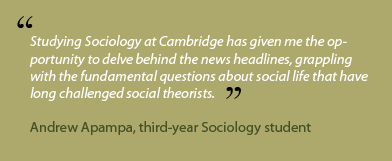 Cambridge is one of the world's leading centres for teaching and research in Sociology. It is consistently ranked first among all Sociology departments in the UK by the Guardian, the Times and the Independent, and Cambridge ranks top in the UK (and fifth in the world) in the Shanghai ranking of world universities.  The Department of Sociology is a friendly and vibrant Department with some of the world's leading sociologists on its staff. The Colleges provide you with unrivalled personal support in your studies and the opportunity to discuss your work with top scholars in small groups. The combination of our outstanding academic staff, our excellent students and the exceptional educational resources make Cambridge an ideal place to study Sociology as an undergraduate.
The structure of the course
The Sociology course at Cambridge has been designed in a way that offers you a great deal of flexibility and choice, so that you can construct a course of study that suits your own interests. You can specialize in Sociology or you can combine Sociology with other subjects, such as Politics and Social Anthropology. For those students wishing to specialize in Sociology, the course looks like this:
First year: four courses
Introduction to Sociology

Plus two optional courses drawn from Politics, International Relations, and Social Anthropology

A fourth course drawn from Psychology, Biological Anthropology, Archaeology and other related subjects
Second year: four courses
Social Theory

Modern Societies II: Global Social Issues


Either a course on Concepts and Arguments in Sociology, or a course on Statistics and Research Methods

Plus an optional course drawn from Sociology, Politics, Social Anthropology, Psychology, Archaeology, Biological Anthropology, History or History and Philosophy of Science
Third year: four courses
Three optional courses drawn from a wide range of more specialized courses in Sociology, including courses on Advanced Social Theory; Media and Culture; Gender; Race and Ethnicity; War and Revolution; Modern Capitalism; Health and Medicine; Education; Criminology

Plus one additional optional course drawn either from Sociology or from Politics, Social Anthropology, Psychology, Archaeology or Biological Anthropology

An optional dissertation on any topic (students can replace one of the optional courses with a dissertation)
Students who want to combine Sociology with Politics, Social Anthropology or with Criminology will have a different set of choices in the second and third years. 
Career opportunities
As well as developing a deep understanding of modern societies and of how they are changing today, students acquire a wide range of transferable skills such as the ability to write clearly and analytically about complex issues, to engage effectively in argument and debate, to analyse qualitative and quantitative data and to conduct independent research. The course has a high reputation with employers, and our graduates go on to work in fields as varied as the media, law, the City, industry, international organisations and NGOs, politics, management, research, teaching and the Civil Service. A degree in Sociology from Cambridge is an excellent springboard to a wide range of professional careers.
Interested? Want to know more? For further information about the Sociology course at Cambridge, visit https://www.sociology.cam.ac.uk/study-here/prospective-undergraduates