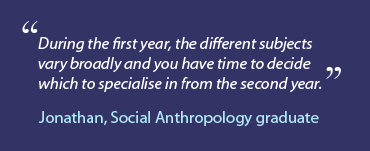 Cambridge offers a world-class undergraduate education. We have excellent teachers and learning facilities. The course is supported by dedicated subject libraries and superb teaching resources, computing facilities, multimedia-equipped teaching rooms and a rare collection of ethnographic films.
The flexibility of the new Human, Social, and Political Sciences (HSPS) course at Cambridge allows you to explore a variety of subjects, many of which may be new to you, before pursuing advanced study in one or two specific subjects in your second and third years. Alternatively, if you already know the subject(s) in which you want to specialise, you can tailor the course to suit your interests right from the start while retaining the option to take individual papers in other subjects as well.
You'll graduate from Cambridge having specialised in one or two subjects, but will also have the advantage of a broad background across the human, social, and political sciences, reflecting the inter-disciplinary world in which we live.
What can I do with an HSPS degree?
Cambridge graduates continue to be highly sought after by employers, due to their capacity for independent thought and rigorous scholarship.
The analytical and critical skills, intellectual versatility, multicultural sensitivity and international outlook you develop through this course are looked upon favourably by employers. Recent graduates have pursued careers in research (both academic and policy research), the Civil Service (including the Foreign Office), journalism, management consultancy, museums, conservation and heritage management, national and international NGOs and development agencies, the Law, teaching, publishing, health management, and public relations.